---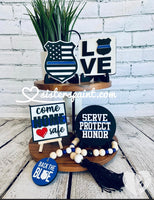 Police Tier Tray items:
4 piece box set and garland: $45
or if you want just a few pieces to add to your current tray
By the Piece:
Back the blue Garland-$15
Police Badge-$12 each
Love square with badge-$12
Come home safe square-$12
Serve Protect Honor- $12
Tray sold separately in store only; prices above do not include tray. 
Find your own tray or come to our studio to what we have available. 
for local pickup: Use the code SSPICKUP
Do you have questions? email us at sistersisterpaintparties@gmail.com or on our fb page. 
These products are made to order and will be ready and available in about 7 days.